Ingram's Magazine – June 2017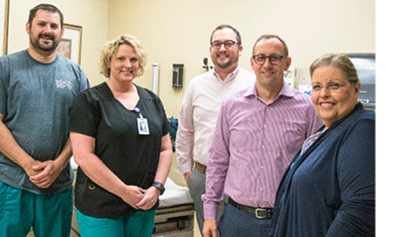 It's simple, really: If you want to provide patients with superior healthcare services, you need a staff that can rely on a superior workplace: Salary, benefits, culture—the whole megillah. That's the ticket to success in a healthcare world whose economics, for private practices especially, have gone topsy-turvy since the founding of Clay Platte Family Medicine Clinic in 1995 by a pair of physicians, Nathan Granger and Richard Ortiz. The small practice has grown into a highly regarded innovator in the healthcare community, with more than 160 managers, clinicians and support staff.
Excellence, the clinic declares, starts with an intensive training program for new employees, then advances through continuing education for existing employees through educational in-services by specialists or vendors in the community. To take care of the lower-tier needs on Maslow's pyramid, the clinic works to ensure that wages remain competitive, then layers on a benefits package with health, dental and vision insurance, paid time off, holiday pay, life and long-term disability insurance, and a 401(k) savings plan with a matching contribution from the company of up to 4 percent of an employee's pay. Performance evaluations, based in part on patient outcomes, are conducted routinely and each employee has a potential of earning a 2½ percent raise every six months, and going a step further, merit-based pay adjustments recognize truly superior employee performance.
Driving the clinic forward as an Accountable Care Organization, employees have goals focused on increasing patient satisfaction, eliminating the use of unnecessary or duplicate services, and decreasing the overall cost of care. Beyond care for individuals, the clinic addresses civic health by encouraging employees to participate in service activities throughout the year. Among them: Child Abuse Prevention Day, Lee Denim Day, Susan G. Komen and Go Red Day. Employees may purchase shirts for the events and make a monetary donation to wear jeans for the day. All proceeds go directly to the foundation. It's becoming a rarity in healthcare, but the clinic stands as an independent health care provider based on the success and reputation for care it has achieved.
Pictured (l-r): Josh Kollmeyer, Laboratory Manager; Jennifer Catherson, Clinical Nurse Manager; Vince Shisler, Assistant Administrator; Jamie Stevens, Administrator; Mary Lou Askren, Support Services Manager